Paint by Numbers Shop
Imagine that you become an artist now. Thanks to Paint by numbers Kits for adults anybody can make an own canvas. We've got a large selection of beautiful painting kits sorted into categories. Our products are made of high-quality materials, and the paint by numbers kits contain all the things you need to make your finished painting a beautiful masterpiece.
New Arrival Paint by Numbers Kits
High-Quality Paint by Numbers Kits
We're proud to meet the highest quality standards of our products. We're highly motivated to deliver your best possible experience with painting by numbers.
Read more
Custom Paint by number kits from photo
Imagine getting your canvas made from your personal photo. Painting the things you love. Gifting a personalized piece of art is a wonderful idea.
Shop now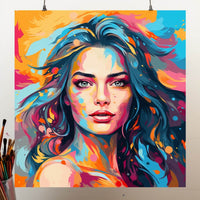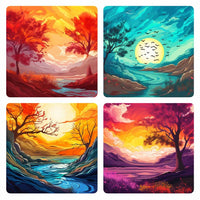 Original and unique canvas kits
We bring you fresh paintings every couple of days. Our focus is what the customers love - quotes, famous paintings, flowers, animals. Would you like to get a paint by numbers made from your art? Let us know.
Paint by Numbers Benefits
1. Make your artwork – people will be amazed and feel jealous when they see a real artwork made by you! Who else of your friends can show others that they have made their own masterpiece? It's something that will make you feel proud and best paint by numbers kits bring so much fun.
2. Get a perfect gift – imagine you gift this to your wife or friend. We have a special custom paint by numbers kit. You upload your photo and we produce a numbered canvas out of it. It's such a great personalized gift! Many of these customers admit their friends enjoyed painting so much.
3. Release your stress – during the painting process, your stress and anxiety will disappear. You'll forget the troubles of this world. We live in a constant hurry and stress and that's why we need to escape from it. Live in the present moment and enjoy the time and peace it will give you.
4. Improve your painting skills – painting by numbers is easy even for beginners, it's a perfect way to learn painting. You don't have to attend boring classes all year long. Just get a canvas kit with bright colors, start working and have fun with it.
5. Improve your concentration and memory – continuous focus and peace are helping you to promote your concentration levels. Get away from the everyday chaos of the multi-tasking world and social mediawith the paint colors and brushes. You need to stay doing one activity at the same time. You will improve your patience and endurance exponentially. Just get an adult paint by number kit and enjoy the many benefits.
Numbered painting is suitable for all kinds of people - beginners and even kids can do it.
read more

close

And why is it so popular? Due to the nature of the process. Watch the result slowly appear in front of you. You can start doing it without having any prior skills. You don't have to be an artist when you start even though you'll feel like one. That's the guarantee we at Painting by Numbers Shop® give our valued customers.

You don't even need to have any special equipment, like brushes, canvas or paints, because there's everything you need in each of the kits. There's always enough paint to finish the canvas. And what's even better? If you need a perfect and purposeful gift for your friend or relatives then the paint by numbers kit for adults is here for you. There is nothing better than giving something that has a personal meaning to gifted people.

This hobby just makes you calmer and more mindful, and it ignites the creativity that
lies within you. Even those people who feel a lack of artistic skills will be motivated to start and then to finish it. Is it your dream to make a handmade portrait painting on your own?
Customer Testimonials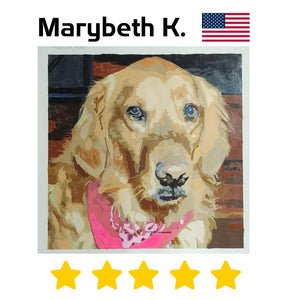 My 1st custom painting
First custom of my golden retriever as a gift for my husband. All essential items were there with no issues to any of it. Love it and hope to order again real soon.
So relaxing
Love these paint by numbers. Very detailed and so relaxing.
Lake in Alps
Was a great experience! Painting by Numbers Shop made it really easy to complete and I'm very happy with the finished painting :)
More reviews here
Frequently Asked Questions
We ship worldwide to most of the countries. If you're from Canada, Australia, United Kingdom, or New Zealand, you can be sure the parcel will reach you.
If you're unable to place the order to your country please contact us.
The answer is nothing. You will get your canvas, brushes and paints ready to use. Each of the quality colors in the pots are pre-mixed for the given painting, you don't need to mix them yourself.
However, if you want to take your hobby onto a higher level, you can get a few additional accessory tools like Professional Brushes, Brush Holder or a Magnifying Glass.
Many customers ask about the use of easel. From our experience you don't need it and it's even better to paint on a flat table. The best would be if the table would be under a certain small angle.
Some people might need a table magnifier as some paintings require details and then it's a lot of numbers next to each other.
First of all, check if anything wasn't damaged during the transport. Even though our products are carefully packed, it may happen that the uncaring couriers cause some damage.
The next thing is to unroll the numbered paint canvas and let it flatten under a heavy object, like e.g. books for a few hours. Then check the paints. we use only the best quality paints that will last in liquid state for at least one year, but in the case you want to start much later with painting, it might happen they dry out. Just put a little bit of water into the paint container so that it melts again.
Well, this completely depends on which design you choose. If you select one of those vintage looking pictures with a lot of small details, then it can be a lot of work. But clean, modern painting don't require enormous efforts. However, it will surely keep you entertained for a couple of days.
No, our adult paint by number kits contain enough high quality paint to finish your canvas. Just in case you would not be happy how the painting turned out, you can contact us to provide you with more paints.